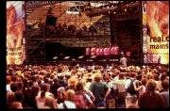 305 Harrison St
Seattle, WA 98109 View Map
Cross Street: Seattle Center
Admission: Adult $15; kids $3
The biggest music festival on the West Coast is surprisingly affordable, considering the talent involved. This nonstop showcase of legendary artists and rising stars unfolds in more than 30 different indoor and outdoor venues, stages and galleries in Seattle Center's 74-acre meadow. Shake your booty to a favorite local band, hear poets drop free verse or check out animated film shorts. Though Bumbershoot has a national reputation, its heart and soul remain distinctly Seattle.
Recognition for Bumbershoot
2001
2001 Audience Winner
Best Big Event

Nominated for
Best Big Event
2001 Audience Winner
Best Arts Festival

2001 Editorial Winner
Best Arts Festival

Nominated for
Best Arts Festival