No matter what you're into, SummerStage will have a free outdoor party waiting.
The Scene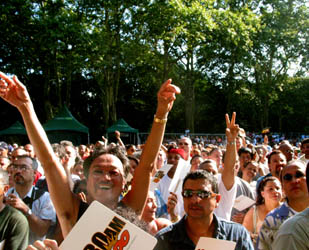 Everyone from Upper East Side dowagers to downtown retropunks to savvy tourists makes it to Central Park's Rumsey Playfield for at least one of SummerStage's myriad events. What connects them all? They're not only there for the music but for the outdoors, the excitement and, yes, even each other. Where else can New Yorkers from so many different backgrounds mingle in metropolitan and musical harmony?

The Draw
For many a year, SummerStage's populist approach to civic entertainment has made it a standard as well as a standout of summer in New York City. Offering eight weeks of concerts by major world music, rock and jazz musicians, as well as poetry readings and dance and opera performances, it makes you remember why you paid all those extra taxes back in April.
Central Park SummerStage celebrated 20 years of bringing an eclectic mix of FREE music, dance, film and word events to Central Park in 2005.
The 20th anniversary season wrapped with a Benefit Concert FROM the Heart of New York City TO the Heart of New Orleans on September 28, 2005.
Featured Artists included: Cassandra Wilson, Allen Toussaint, Ivan Neville, Dr. John, Angelique Kidjo, Lou Reed, Cory Glover, Vernon Reid, Hubert Sumlin, DJ Logic, Soulive, Dar Williams, Drive By Truckers, J Mascis, Bettye Lavette, Carrie Hunter, Christian McBride, Rock'n Dopsie, Rob Wasserman
Admission was free with a Suggested Donation of $25.00. As a result, City Parks Foundation was able to donate net proceeds of over $27,000 to the New Orleans Musicians' Clinic.